🌟 ℍ𝕆𝕋 ℂ𝕆𝕍𝔼ℝ & 𝔹𝕃𝕌ℝ𝔹 ℝ𝔼𝕍𝔼𝔸𝕃 🌟
𝗪𝗵𝗲𝗻 𝘁𝗵𝗲 𝗦𝘁𝗼𝗿𝗺 𝗕𝗿𝗲𝗮𝗸𝘀, 𝗮𝗻 𝗲𝗺𝗼𝘁𝗶𝗼𝗻𝗮𝗹, 𝗮𝗻𝗴𝘀𝘁𝘆 𝗿𝗼𝗺𝗮𝗻𝘁𝗶𝗰 𝘀𝘁𝗮𝗻𝗱𝗮𝗹𝗼𝗻𝗲 𝗯𝘆 𝗘𝗺𝗲𝗿𝘆 𝗥𝗼𝘀𝗲 𝗶𝘀 𝗰𝗼𝗺𝗶𝗻𝗴 𝗠𝗮𝗿𝗰𝗵 𝟱𝘁𝗵!
𝗣𝗿𝗲-𝗼𝗿𝗱𝗲𝗿 𝘁𝗼𝗱𝗮𝘆!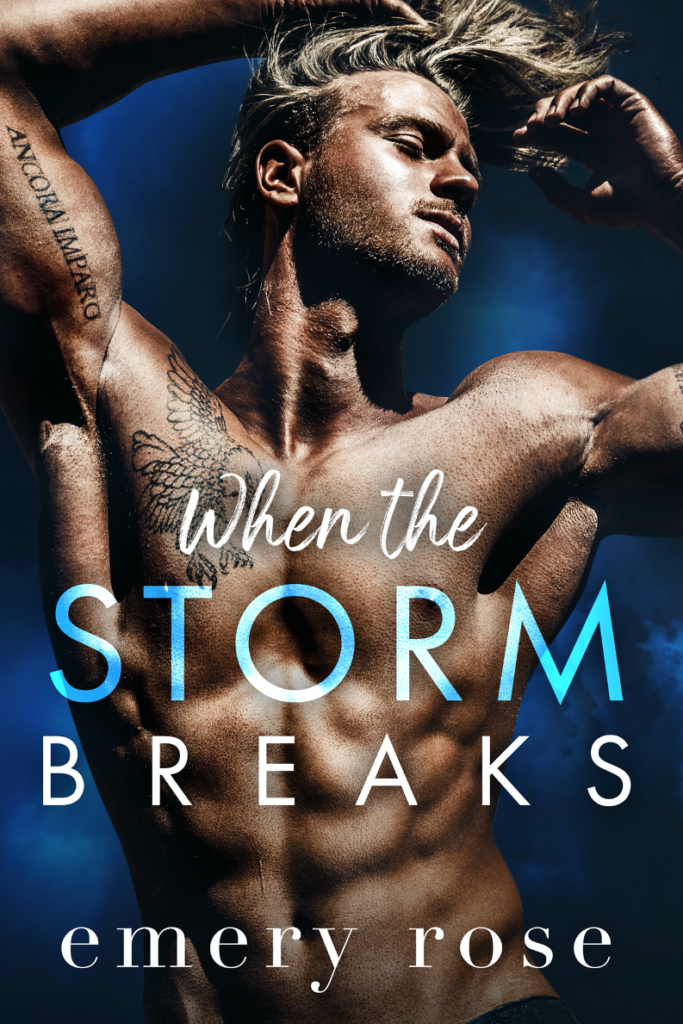 BOOK BLURB
𝐎𝐮𝐫 𝐰𝐨𝐫𝐥𝐝𝐬 𝐧𝐞𝐯𝐞𝐫 𝐬𝐡𝐨𝐮𝐥𝐝 𝐡𝐚𝐯𝐞 𝐜𝐨𝐥𝐥𝐢𝐝𝐞𝐝, 𝐛𝐮𝐭 𝐢𝐭 𝐬𝐞𝐞𝐦𝐞𝐝 𝐨𝐮𝐫 𝐩𝐚𝐭𝐡𝐬 𝐰𝐞𝐫𝐞 𝐚𝐥𝐰𝐚𝐲𝐬 𝐝𝐞𝐬𝐭𝐢𝐧𝐞𝐝 𝐭𝐨 𝐜𝐫𝐨𝐬𝐬.
Brody McCallister was only supposed to be a means to an end. My golden ticket to get me closer to what I really needed—a way to make peace with what I'd done when I was eighteen, dirt poor, and left to fend for myself.
I only had six weeks in the middle of a hectic world tour to do it.
So the last thing I needed was to fall for a cocky cowboy. A walking contradiction with a charming grin, a dirty mouth, and a gift for healing wild and broken things.
His life was in Texas.
Mine was on the road.
He guarded his privacy fiercely.
I was constantly hounded by paparazzi.
Everyone warned me it could never work, that ultimately I'd be forced to choose—my music career or him.
I didn't listen. I fell for him anyway.
Hook, line, and proverbial sinker.
But Brody was hiding secrets.
And when the storm finally broke, it destroyed everything in its wake ... including us.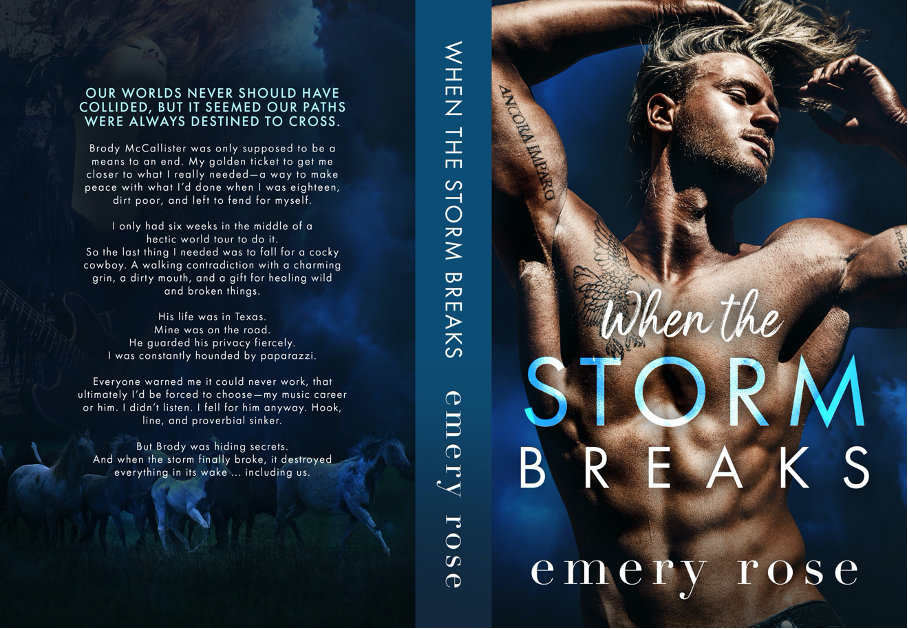 🌟
Add WHEN THE STORM BREAKS to your Goodreads TBR➜
https://bit.ly/36bSrOS
Cover Photo: Michelle Lancaster
Cover Branding: Lori Jackson
Cover Design: Najla Qamber
PRE-ORDER LINKS
Pre-order it now at a limited DISCOUNTED price!
AMAZON US
→
http://bit.ly/WTSB-US
AMAZON UK
→
http://bit.ly/WTSB-UK
AMAZON AU
→
http://bit.ly/WTSB-AU
AMAZON CA
→
http://bit.ly/WTSB-CA
PURCHASE LINKS
#1-click When the Stars Fall, Book one in the Lost Stars series of standalones!
Amazon US →
http://bit.ly/WTSF_US
Amazon UK →
http://bit.ly/WTSF_UK
Amazon CA →
http://bit.ly/WTSF_CA
Amazon AU →
http://bit.ly/WTSF_AU
Universal
→
mybook.to/WTSF
ABOUT THE AUTHOR
Emery Rose has been known to indulge in good red wine, strong coffee, and a healthy dose of sarcasm. When she's not working on her latest project, you can find her binge-watching Netflix, trotting the globe in search of sunshine, or immersed in a good book. A former New Yorker, she currently resides in London with her two beautiful daughters.
AUTHOR LINKS
Reader Group
|
Goodreads
|
BookBub
|
Amazon
|
Instagram
|
Facebook