KING OF SPADES (The Wonderland Trilogy #1) by Alta Hensley
Release Date: April 5th
Genre/Tropes: Billionaire Romance/Virgin Romance/Protector
Add to Goodreads:
https://www.goodreads.com/book/show/59498571-king-of-spades
PREORDER IS AVAILABLE!!!
Amazon:
https://amzn.to/3L2GL4s
Amazon INTL:
https://geni.us/KingofSpades
Apple:
https://geni.us/KoS-APPLE
Nook:
https://geni.us/KoS-NOOK
Kobo:
https://geni.us/KoS-KOBO
Google Play:
https://geni.us/KoS-GOOGLE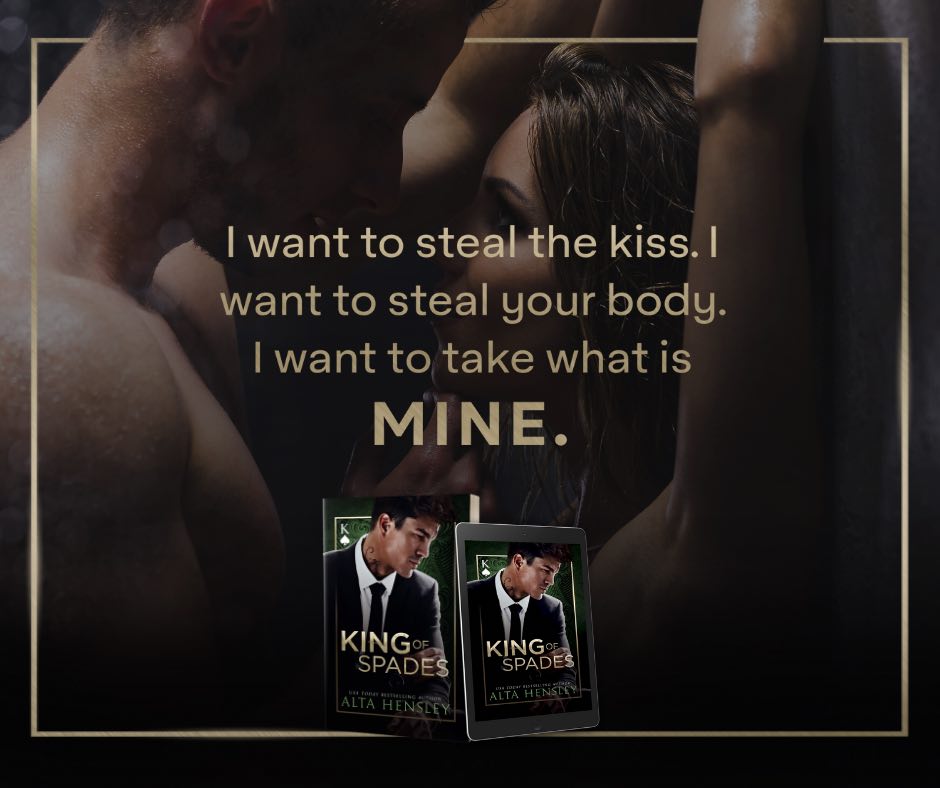 EXCERPT:
I wrap my arms around his neck as he pulls me into the office and closes the door behind him. Not bothering to deny his words, seeking his strength and command, I whisper, "I feel…"
I don't know what else to say, how else to resist a man so able to shatter my every resistance. Everything about this is wrong. So very wrong. I'm his captive. Nothing more.
I run my fingertips up the center of his chest and then across to his upper arms. Desire floods through me as I touch him. Not attempting to strike him or push him away. No, I want to stroke his flesh, to feel his muscles flexing beneath my fingertips, each caress increasing the heat that swamps my senses.
He holds me still, lowering his head, kissing the side of my neck with parted lips. He seduces me not with force, but with gentleness. "Tell me to stop," he commands. "I want to steal the kiss. I want to steal your body. I want to take what is mine."
I shake my head. I'm not going to obey him on this. I don't think I can survive if he pulls away again. I don't want to risk him actually stopping if I say so. Not when my entire body is on fire with a need that has to be quenched.
"No." It's the only word I can barely whisper. Speech is conquered by sexual need. "You don't have to take. I want to give."
In one quick movement, Nick scoops me up into his arms and carries me to his desk. My body melts against the hardness of his chest, my tongue dancing with his in the depths of his mouth.
I need more, need to feel his skin against mine.
Hastily, I pull his jacket off, his shirt up over his head, and run my hands down his chest. I revel in how smooth and sleek his skin feels against my fingertips, each muscle clearly defined. Sexual attraction takes on a whole other meaning at that moment.
Nick moans as he kisses me deeper, guiding me onto the wood of the table below. With movements as graceful as a skilled craftsman, he removes my clothing, drawing the dress over my head and lowering my panties effortlessly. I shiver, not with cold, but with need. I moan when he removes my bra, his fingertips running over my breasts, each stroke a promise of what's to come.
My entire body screams for his touch as he lowers his head and gives both of my nipples a kiss, his hands sliding down to slip beneath the curve of my ass. I lift my hips to ease the journey, my heart demanding he hurry, my soul aching for him to take me. To claim me as his.
Despite my whimpers, my pleas to plunge into me, to fill my empty pussy, he takes his time, my mind swirling as he places soft kisses over every inch of skin he's exposed. Pleasure escalates with each touch and with every moment I lay beneath his weight, but it's too slow.
"Now," I demand. "I need you, now." Reaching for him, I find my hands taken, my arms lifted above my head.
"You're not running the show," he says, guiding my hands to the sides of the desk. "Grab on and don't let go."
Not sure if the wood feels cold because I am so hot, so needy, I welcome the coolness as I wrap my fingers around the edge. The very act of obeying, of submission, causes my mind to rebel but only for the briefest moment as Nick settles over my body.
His entire being screams primal male, and my whole body shudders, my desire ratcheting higher. His thick thighs hug either side of my hips; his pants undone with his cock, standing straight out from his body, lying along my stomach, hard as a rod of steel, thick and heavy.
My mouth floods with saliva, the desire to lick up his shaft, has my tongue running along my bottom lip, and my hand moving to reach for the cock I so desperately need to taste.
"No," he says, instantly reaching to capture my hand, guiding it back to the desk.
"But I want to touch you," I nearly hiss in need.
"It's not about what you want, it's what you need," he says.